Des Moines, IA Roosevelt High School
Class Of 1971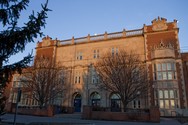 ANNOUNCEMENTS
Thanks to all who attended the 45th reunion October 8. A good time was had by all.
To those who didn't make it, you were missed.
Preliminary plans are being discussed for our 50th (!). Any ideas would be greatly appreciated. From what we've heard so far, casual is good for all events! Please let us know your thoughts.
As plans are being formulated, we'll keep you updated. And of course there'll be a survey. Got to have a survey!
Also! There's been talk of having a class motto for t-shirts, banners, etc. We definitely need help with this. There's been one suggested so far: "Class of '71! It's a Son of a Gun!" It was rejected immediately.
See you in five years! Until then, take care.
WELCOME to the TRHS 1971 REUNION WEB SITE
Our goal is to contact all members of the class of 1971! If you are new to the site or have changed your personal information recently, please click on the Classmate Profile link to update your personal information.
Check the Classmate Profiles link and if you're still in contact with someone on the MISSING CLASSMATES list please reach out to them and ask them to join this page and update their profile.
On Facebook? Join our FB page by searching "Roosevelt High School Class of 1971"