Des Moines, IA Roosevelt High School
Class Of 1971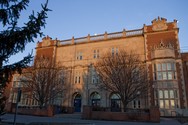 Message Forum
09/20/11 06:25 PM
#15

now THAT's a great idea..... right up my alley, unfortunately I'm unable to take the day off from work.... but the rest of ya enjoy the game and the merriment!
09/21/11 08:27 AM
#16

Hello Classmates,

If you are looking for something to do while in town, let me suggest ARTSTOP. It is free and open to the public. More information can be had at: www.artstopinfo.org . Free buses are availiable and Roosevelt is one. Northeast corner- you'll see the banners. Thanks, Marta (Murray) Jones-Couch
09/21/11 06:47 PM
#17

I received this message from Henry Druker...

I had hoped to make the reunion, but now schedule not working out... so wanted to send best regards to you and whole reunion committee, if you could do me the favor of passing those on to your committee members. You all have done such a nice job, and event though I won't be there, I can picture it because of all your good work. Have fun at the reunion, and all the best, Henry

09/21/11 07:24 PM
#18

Dear Classmates,

I think we need to give the commitee a round of applause for putting this together. They have done a great job with the website and all the planning. Sounds like it will be a good time for all.

The Hawks game would be a blast. We have to pay extra to see them in Florida, and I really hate to see them lose!

I will not be at the Reunion, but I sincerely hope that everyone has the best time of their life!!!

Give everyone a big hello from me...even if you don't remember them.

Great memories from 40 years ago!!!! WOW.

Regards,

Dan Shay
09/21/11 08:46 PM
#19

I agree with the two previous posts. Thanks to everyone who had a part in putting the reunion together. Although I am unable to attend, I have enjoyed catching up with everyone who has posted on the website. It certainly brought back some memories—some that made me laugh, some that made me cringe a little, and some that brought a touch of sadness over those classmates no longer with us.

Hope you enjoy the reunion.

Ron Hartzer
09/22/11 10:40 PM
#20

Just FYI...we are going to try and keep this website up and running for the next few years...as a way to remain in touch plus continue to find missing classmates. It also will easier to organize the NEXT reunion..in 5 years. So please keep this site updated with your current information and if you can't make it to this one, we'd love to see you for the 45th ..or the 50th (OMG)............
09/23/11 10:00 AM
#21

Just one more plug for Coach Anderson's 90th birthday. He can be emailed at: TRHSCoachAnderson@gmail.com.

Coach Bob Anderson will turn 90 on September 30th. He'd love to hear from you! Please send birthday cards to him at the following address: 835 S Los Diamantes, Green Valley, AZ 85614. Thank you!



09/25/11 12:27 PM
#22

I received this email from Ron Louis Castellano today and wanted to share it with everyone. I agree Ron, I think everyone had a great time!

Kudos to all in charge of organizing our 40th reunion. I'm sure everybody had a wonderful time (I know I did). It was most refreshing seeing all those wonderful friendly faces. I wish we could do this EVERY year! I have a copy of the 1968 Franklin Junior High "Almanac" much fun...will scan and send copies to whomever wants one..


My email address is denhawki@comcast.net I'll be heading home 9/27, so might take a week...
Ron


09/25/11 12:36 PM
#23

Classmate Reunion Weekend Photos

At the Saturday night reunion event many friends asked me if they would be able to post their photos taken during Reunion Weekend photos to the this site and the answer is YES!

I have set the web site so anyone can upload photos to the Photo Gallery. Classmates can create his or her own unique gallery within the master gallery. All photos uploaded by Classmates will be credited to them! So let the uploading begin!
09/25/11 03:27 PM
#24

Kudos to Dave Collier for organizing a great bike ride around Des Moines! It was a lovely day, and we were led past some wonderful Des Moines landmarks, such as The Principal River Walk, Gray's Lake, The Bill Riley Trail, and the Pappajohn Sculpture Park. This is a must do for next time. Thank you for organizing.



09/25/11 11:42 PM
#25

Sorry my camera died right in the middle of Saturday night's bash! But at least I got the important shots..of the food! Geesh.....Anyway, thanks to EVERYONE for coming! Hope you had as much fun as the committee did in planning this! See ya in 5 years, if not before!! What's everyone prefer..a summer get- together..or Homecoming again??
09/26/11 10:15 AM
#26

Definitely thinking about coming to the one in 5 years. Homecoming is a great time, cooler weather! Iowa in the summer.... hmmmm. My dad always said the humidity was good for the corn. It would be great to see all the Greenwood people again, think I missed out on that this time! Glad you will be keeping this website going, it's been fun looking at everything !
09/26/11 11:12 AM
#27

I'm gonna weigh in on the side of a homecoming get-together for the same reason Ann cited.... cooler weather. Iowa summer heat is hard on old folks.
09/26/11 04:17 PM
#28

Many thanks to the group who pulled this together. It was well worth the trip and I really enjoyed seeing everyone who attended. My one regret is not having had enough time to say hello to everyone who was there, but it looked like everyone was having a great time. And yes, Renee, the girls definitely have held up better than the boys. :-)
09/26/11 04:21 PM
#29

Hi Marie,

Do you think you could post the pictures on Facebook too? It would be fun to send them on to other people.

Thanks for everything,

Julie
09/26/11 05:02 PM
#30

Hey everyone..... does anyone besides myself remember Roger Brandenburg? He was in our class, but not listed amongst us. I saw him last about 30 years ago. Just wondering......
09/27/11 04:21 PM
#31

I think so - red hair?
09/27/11 04:27 PM
#32

Oh and regarding time of year - most DEFINATELY I agree on fall. It's a great time of year, and yes, I agree, that the older we get :-) the harder the hot weather and humidity is on us 'old' folks. And we will not be any younger in 5 or 10 years! Keep it in the early fall. Thanks, reunion committee for all your hard work!
09/27/11 05:18 PM
#33

I remember sitting next to Roger in Mr. Sheibel's homeroom... often wondered what happened to him.
09/27/11 07:14 PM
#34

yes, Susan, Roger had red hair. In high school he drove a blue '64 (I think) Falcon Sprint..... funny, I can remember things like that but cannot remember "important" stuff.....
10/14/11 11:32 AM
#35

I had to miss the reunion because we had inauguration for our new DMU president

that weekend. I have really enjoyed all the photos. I hope I can attend the next one!

Thank you for keeping the site up to date and all of your hard work.
10/17/11 03:10 PM
#36

on a sad note, I saw an obit in DSM Register for Jack Grimm, who a lot of guys will remember as the barber at Roosevelt Barber Shop for 40 years or so. Had my hair cut by Jack a few times myself.
10/26/11 06:15 PM
#37

Yes, sad about Jack and passing of I think the last "original" barbers from the iconic shop at The Center. Others were Harmon and Larry - someone else..? Used to be dragged in on Saturday mornings by my Dad (while he stopped into Reichardt's) with my brothers for "a trim" which inevitably entailed too much hair landing on the fllor, particularly for the late 60's!

posted a pic of that landmark in my gallery for the TRHS tour day...
10/29/11 01:37 PM
#38

yea Larry, that's an interesting pic of the barber shop.... I didn't even know it was still there. My dad would take my brother and I there as well, it was an easy walk for us... just lived about a block north. I should someday stop by the center for a stroll, my parents still live in the same house on 42nd.
10/30/11 11:17 PM
#39

Bob was my barber for years! Not sure when he retired?