Des Moines, IA Roosevelt High School
Class Of 1971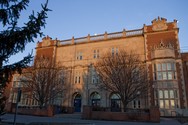 Message Forum
08/27/11 11:25 AM
#2

Hey classmates! Let me know if you're coming to the reunion! If the reunion is half as fun as the committee meetings has been, you don't want to miss! We've got some great folks in our class. Sign up today!
08/28/11 12:07 PM
#3

I'm really sorry that I won't be there. I was just in Iowa to see my family this summer and Sept. is an intensely busy time at my job, so I won't be making the trip (I live in Port Townsend, Wash.). It sounds like it will be a lot of fun, and I hope to see pictures posted!
09/07/11 12:25 PM
#4

We'll miss seeing you and we'll be sure to post photos! Hopefully, you can make it to the next reunion!
09/07/11 08:09 PM
#5

Hey you all! Are your ears burning by chance? That's because the Friday night committee is meeting at Legends in West Des Moines and we're hoping more of you sign up for the reunion. So quit being talked about and sign up for the fun. See you in a couple of weeks!
09/07/11 08:34 PM
#6

We are also very busy trying every way we can think of to track down missing classmates. OMG ...some people with similar names have very interesting FB photos! But, we are doing our best to find everyone and time is running out! Please contact fellow classmates that you've kept in touch with over the years. And see you in a few weeks!
09/08/11 10:50 PM
#7

The exchange on FB has been pretty lively with Nancy Pilmer & Dan K. leading the charge to the JCJHS hospitality room @ the Savery and an added event @ the greenwood. More details to follow.
09/09/11 08:40 AM
#8

Tom, what FB page is this on??? Should we move the discussion to the Roosevel High School Class of 1971 page??? We want details!
09/12/11 06:26 AM
#9

I know, this is a little off topic, but I have a question that has burdened me for 40 years: who wore the red sneakers with the cap/gown at graduation? Or is this a figment of my imagination?
09/13/11 01:03 PM
#10

Hey, Check out Dave Collier's photos on the Bike Ride Route Pictures Link! This is a sample of what you'll see on the Riders Ride on Saturday, Sept. 24th. Don't miss it, there's still time to sign up!

Thanks Dave for planning the ride and sending the photos! Fabulous photos!
09/13/11 08:12 PM
#11

Jim I am not 100% sure. But I remember that and I want to say it was Regie Richardson.
09/13/11 09:56 PM
#12

Thanks Tom..... you have reaffirmed my contention that I still have a few brain cells remaining..... and now that you've jogged my memory I do remember Reggie doing that. Of all the things that one could remember (or not) from 40 years ago........
09/20/11 11:36 AM
#13

Coach Bob Anderson will turn 90 on September 30th. He'd love to hear from you! Please send birthday cards to him at the following address: 835 S Los Diamantes, Green Valley, AZ 85614. Thank you!
09/20/11 05:12 PM
#14

Wow………... Whatever happened to the last 40 years and how did it happen so fast. As non bikers, we figured our bikes would need motors, Randy Mease, Ron Castellano and Mike Barnes are instead meeting at Legends American Grill, in West Des Moines this Saturday, to watch the Hawkeye game and hoped you might be interested in joining us. The game starts at 11:00, the doors open at 10:00 and we've reserved a party room with a 90" TV, old eyes need big pictures. So if you can get away, stop by and say hello. Legend's has a full food and drink menu and is located at:

640 S. 59th
West Des Moines, Ia. 50265

Directions to Legends from I-235 are as follows:

1. Merge onto I-235 W. Go 5.3 Mi
2. Merge onto I-35 S via EXIT 123A toward Kansas City. Go 2.3 Mi
3. Take the Mills Civic Parkway exit, EXIT 70. Go 0.3 Mi
4. Keep left at the fork in the ramp. Go 0.1 Mi
5. Merge onto Mills Civic Pky. Go 0.3 Mi
6. Turn left onto S 50th St.
7. S 50th St is 0.1 miles past S 51st St
8.Legends 640 S 50th St. is in the strip center on the right

This is a great chance for classmates who graduated in 1971, prior or subsequent years to socialize with our class so please pass along the invite to anyone you think might be interested in attending. It's a cash bar so the more the merrier.

Legend's has asked for an approximate head count so RSVP's are requested but not mandatory. The party room holds 30 seated people but they will bring in extra seats if we tell them ahead of time. With that said Randy will be calling in a count on Saturday morning. We don't need names but rather the approximate number in your group. His e-mail address is

rmease123@gmail.com

.

Mike Barnes, Randy Mease 515.202.8000, Ron Castellano
| | | |
| --- | --- | --- |
| | | |